On February 1998, John and Lib Johnson purchased Mr. Surf's Surf Shop which was located in a small building on Thomas Drive. During their first year of ownership, they navigated through the joys and difficulties of owning a business. Both John and Lib began to set out to make a difference in their community, through their new found business. What they didn't know, was what was coming next. Sometimes, the greatest things pass through the greatest adversities.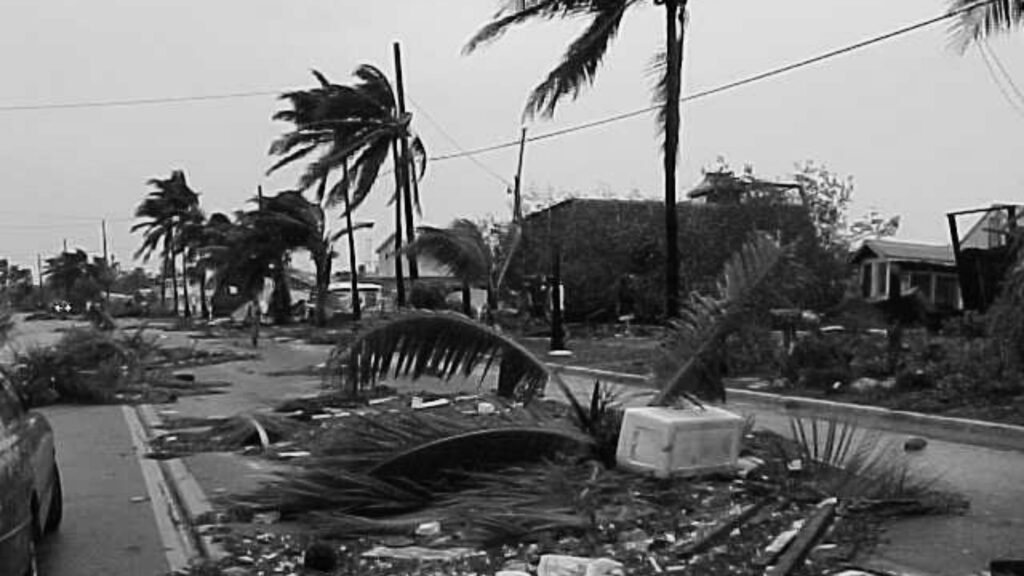 One year later, on January 1999, after John and Lib had invested everything in their new business, a water spout came off the coast and destroyed their home, along with almost everything they owned. This began the rebuilding process for our new owners. John and Lib began to work tirelessly to get their new business back on track. They began to be overwhelmed by the work load and constantly wrestled with the question, "God, is this really what you've called us to do?"
In 2000, after working with the insurance company, John and Lib prayerfully took their investment and bought a piece of land a mile down the road from the original location of Mr. Surf's, right across the street from Rick Seltzer Park. This piece of land would become a beacon in their community, they just didn't know it yet. Now what you have to understand is that during this time, Panama City Beach hadn't become the booming market it is today. In many respects, Panama City Beach was a rural area. John and Lib purchased the land in faith, in great hopes that they were following God's call for their lives.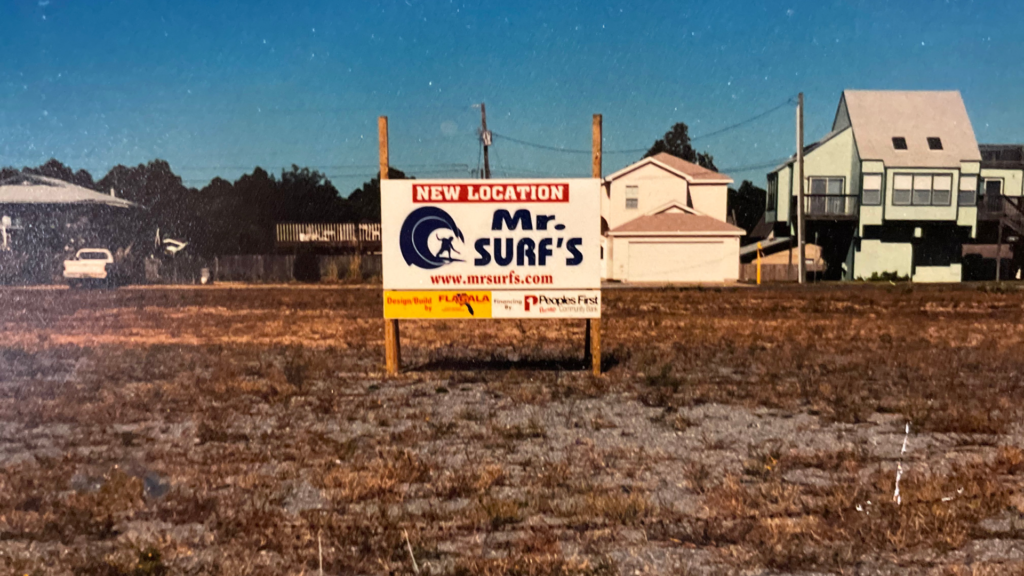 The beaches began to change! After the tragic events of 9/11, the government began pouring into the economy. The market went up and the land that had been purchased by John and Lib, in faith, had been purchased at the perfect time.
In 2002, John and Lib broke ground and began building the new Mr. Surf's Surf Shop, the surf shop you now see today. For the first ten years of the business, John was the Director of the Eastern Surf Association, continually holding some of the largest surf and skim contest in the United States. They would go on to be awarded four years in a row for holding some of the largest contest in their region. In 2013, John and Lib invited Justin and his wife Karen to set up their food truck on the property. Their business was known as Finns Island Style Grub. After a few short years, John and Justin began to discuss putting a coffee shop in the surf shop. In 2016, Finns Barista Bar and Snack Shack was open for business, located within Mr. Surf's Surf Shop. One thing after another, the business was continually being blessed, but it wasn't always about business.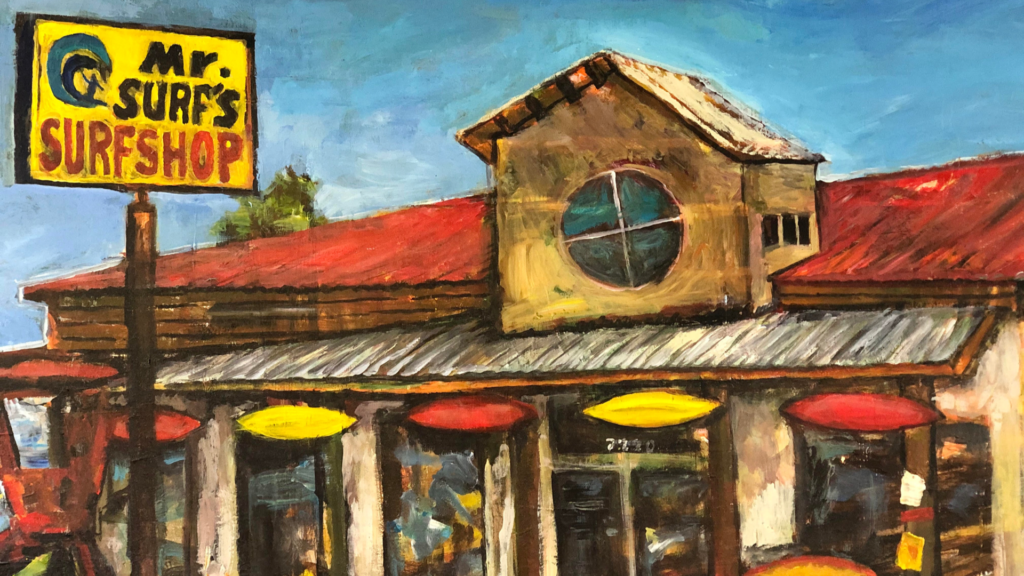 Since the beginning of owning Mr. Surf's, John and Lib had always used their business as a ministry. It wasn't until John came face to face with God's goodness, where not only his business but his life would never be the same. One day, John was standing in the shop alone and wondered why God had blessed him so much. He had an amazing business, a beautiful wife, made good money, but knew he was living two different lives. Surfing was his god, money was his god, and he lived in such a way that he was his own god. He claimed to be a Christian and even did ministry, but John didn't believe he was living for Jesus like he should. As John began condemning himself in the moment, he felt like God was smiling at him. He began to be upset with God and say, "Why are you smiling at me, God? I deserve to go to Hell!" Despite how John saw himself, he sensed the Lord kept smiling at him. Then he saw this verse,
"And we know that all things work together for good to those who love God, to those who are called according to His purpose." Romans 8:28
John was encountering God's grace and mercy and love. He was completely undone. The verse doesn't say all things ARE good, it says all things work together FOR good to those who love God. John began to wonder, "What if I actually began to live for God?" Suddenly, John had a vision where he saw Jesus. John turned his back on everything else and followed Jesus. In the vision, Jesus was walking with twelve men and John was number thirteen. As John began walking away from his business and following Jesus, Jesus turned around and looked at him. He said, "I didn't want all this, I wanted this." As John looked, Jesus was pointing at his heart. From that point on, John began to grow into the image of Christ and walk out relationship with Jesus daily.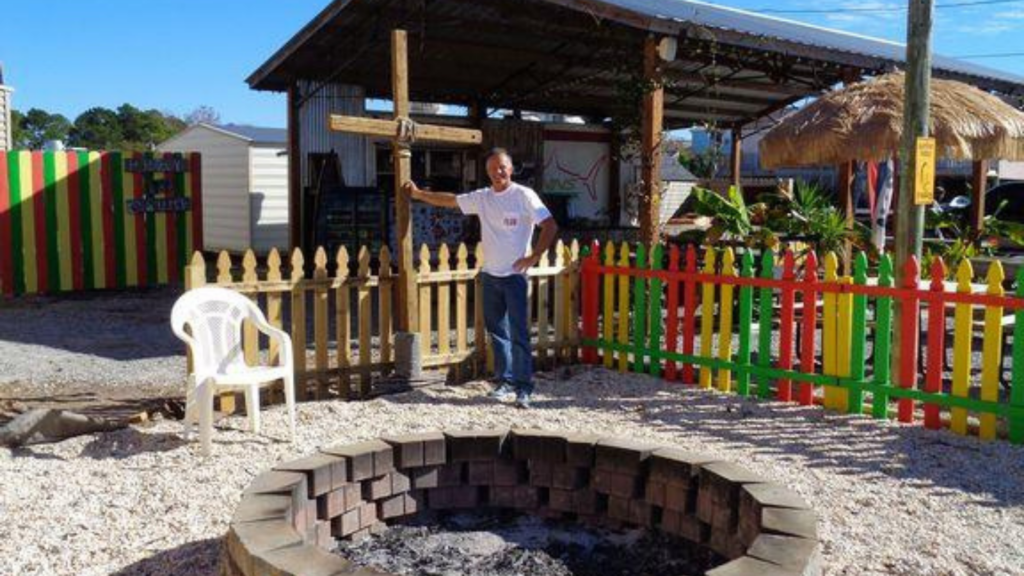 One day, John was working on a cabinet outside, when he felt a tap on his back. He turned around to see who was there, but there was no one. As he continued working on the cabinet, when he felt another tap. He turned around to see who it was, but there was no one. John began to realize that it was Jesus. Then John heard the Lord speak to his heart, "John, I'm going to be bringing a lot of people here. It's not about this place. It's not about you. It's about Me. Just let Me do what I want to do."
Over the next couple of years, things began to escalate in the surf shop. As people came into the shop, John and Lib began to see Jesus doing amazing things! People began to be healed, set free, giving their lives to Jesus, being baptized in water and the Holy Spirit. Still to this day, we are seeing these wonderful works of God!