Eye Witness Accounts Of Jesus Changing Lives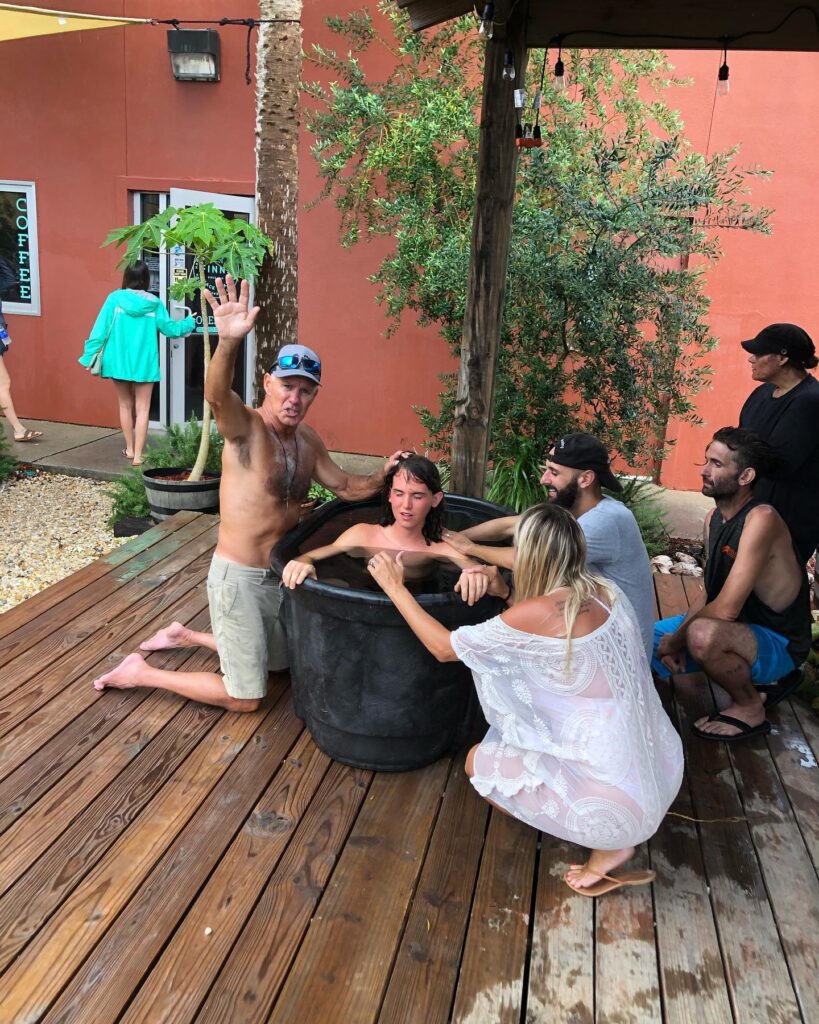 So many Divine Appointments – so many Divine Encounters! One right after another, as the Lord just keeps bringing in people from all over and off the streets to be healed spiritually, physically, and emotionally. Cancers ridden, injured limbs healed, and best of all many baptized in the Holy Spirit and Fire receiving Life and praying in their spirit tounges for the first time. All in public where many believers and unbelievers witnessed it all. God is certainly moving in this little Surf Shop. All we do is wax up our boards (prepare His house) and let the Waves (His Holy Spirit) move and groove how He wills.
Come on in and join us = Get On Board with the Lord and enjoy the ride. Go with His flow. Holy Flow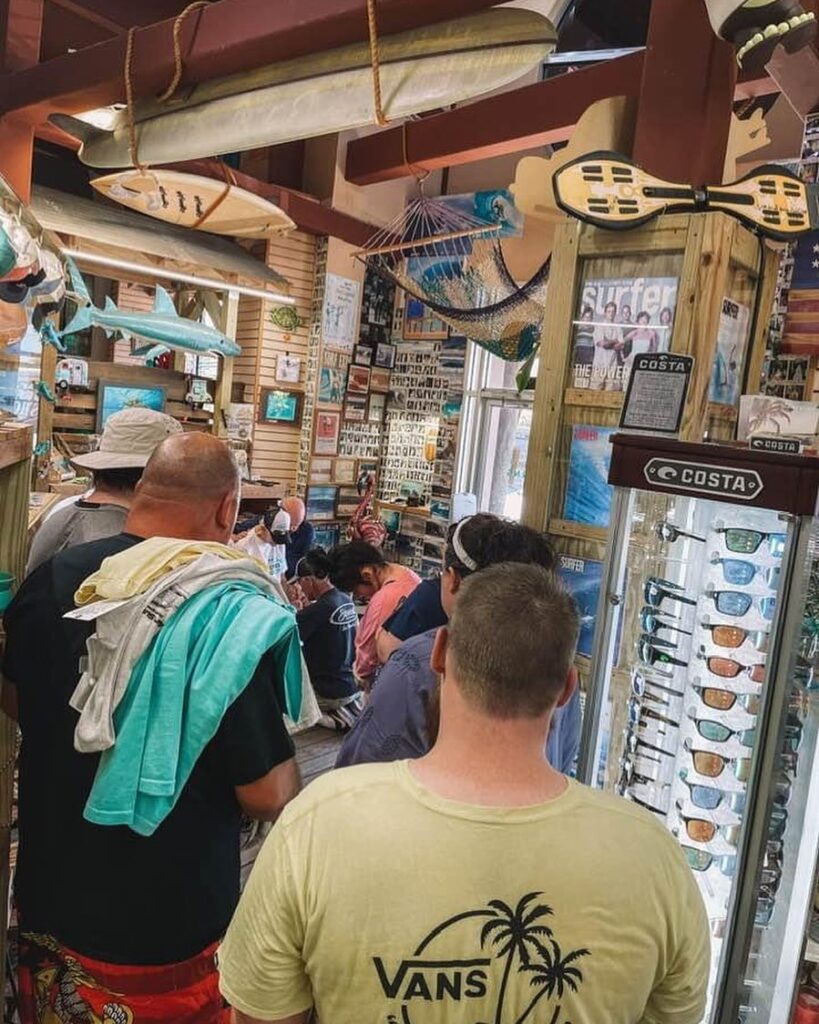 Praying for a family.
Once again the Holy Ghost brought in folks from all around to be ministered to. Some needing healing physically, some emotionally and some just a fresh new wine poured out from above. Incredibly blessed and humbled to be used by God in such a beautiful way each day. We are EKKLESIA!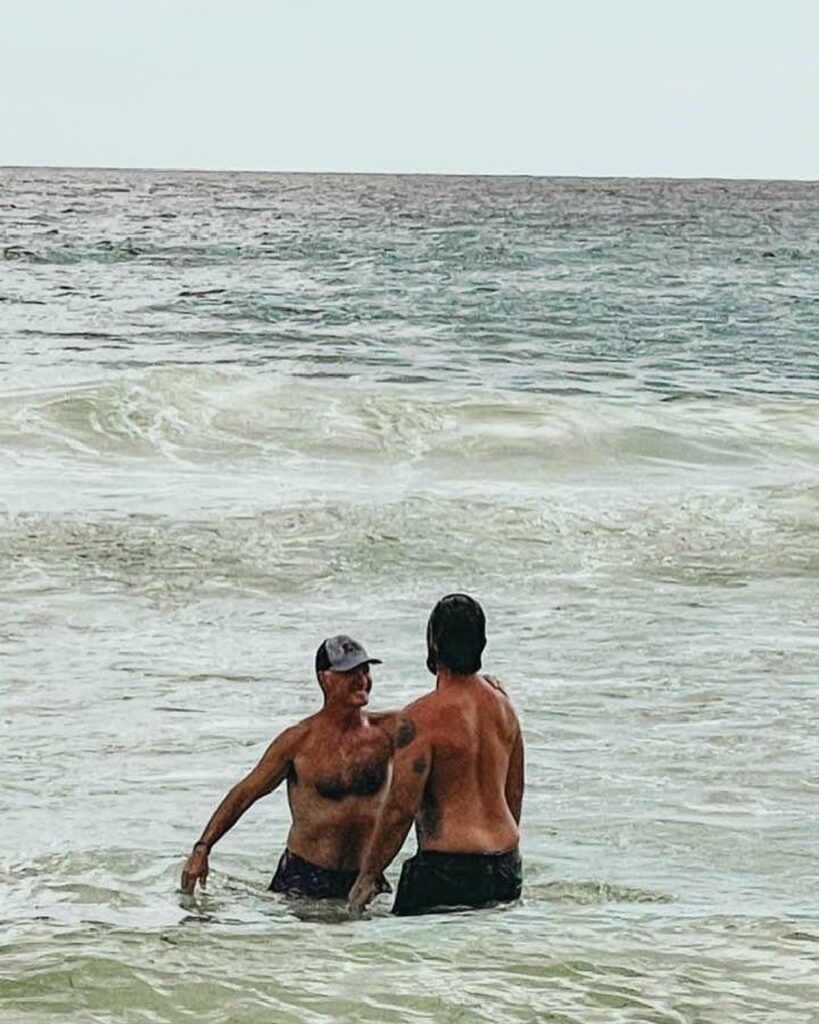 Another Brother brought into the Kingdom of God! I've known Zac and his family for quite a long time. Zac's brother 'Storm' lost his life awhile ago in a jet ski / boating accident. I remember giving Storm a Bible and talking with him regularly about Jesus. When his mom came into the shop after the accident, she told me he always kept that Bible at his bedside. I have no doubt Storm is in paradise with Jesus. Well today, his brother Zac came into the shop holding Bible and needing to speak with me. To make a long story short, we prayed over Zac and he gave his life to the Lord and received the baptism of the Holy Spirit and then we walked him across the street and was baptized in the Gulf. He'll be coming back soon and we're going to baptize his whole family! This is LIFE! We aren't in the Surf Business. We're using the Surf Business as HIS business and seeing the fruits of our labor. It's not about selling stuff, it's about bringing the lost into the Kingdom of God through Jesus Christ our Lord and Savior.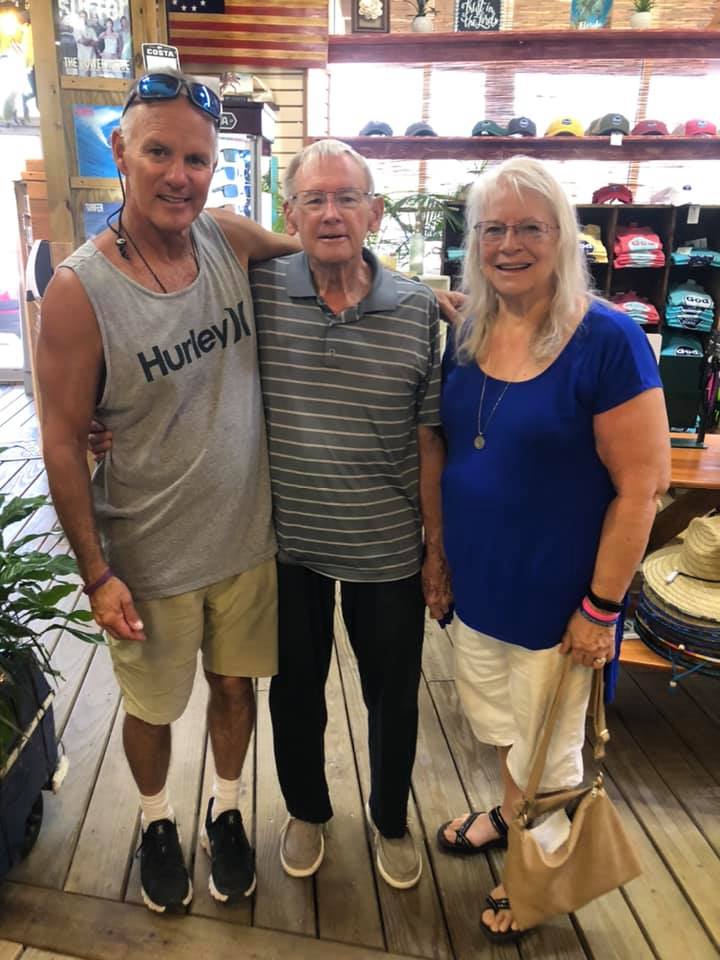 This older gentleman came in feeling weak and moving slow. After we prayed for him, he felt lighter and younger. Then he started to JUMP AROUND! This is the power of the Gospel!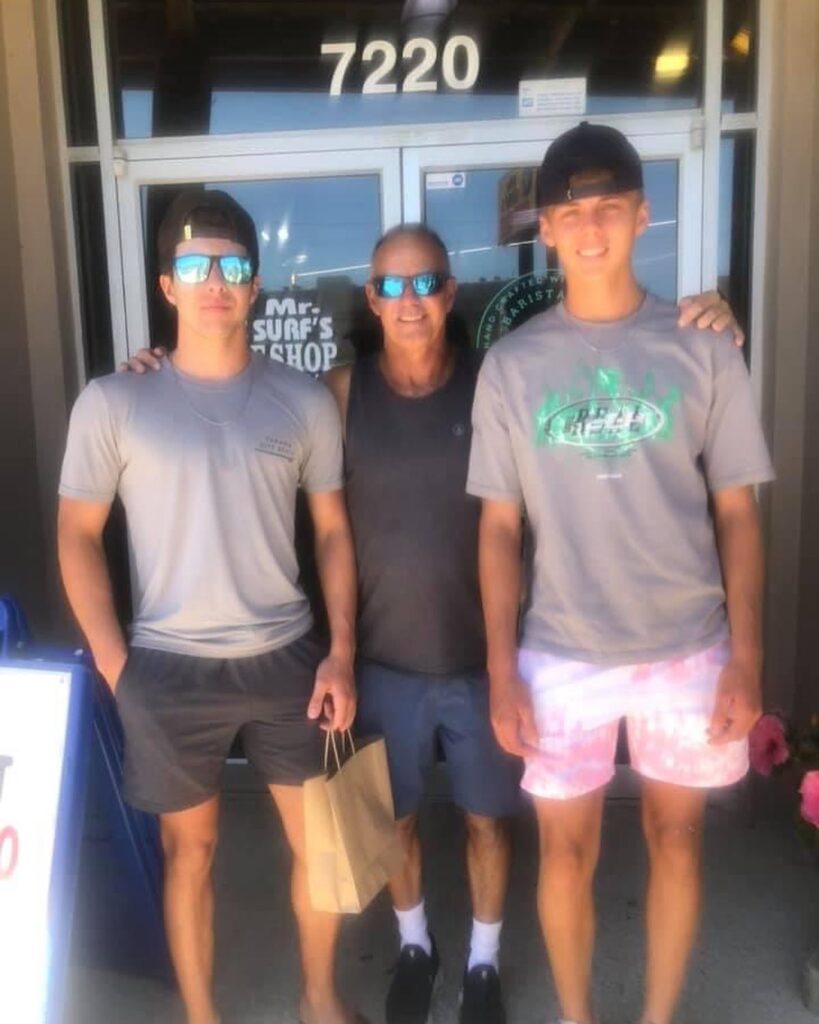 Today, two young men gave their lives to Jesus today! We saw Jesus heal several people and many more encounter Him!
We are called to live the Kingdom Life! Where love is demonstrated and Jesus Christ is King!
Testimony from a Surf Shop:
Meet Kayla & Ryan & little 'Coleman Joseph' they say is their miracle baby.
Last July 2020, Kayla and Ryan were led to the shop by the Lord. I met them and knew the Lord had brought them in. We started talking, and I discovered that they were deeply hurting because they wanted a child and Kayla had two miscarriages. I showed them a book that my friend wrote that might give her peace. I then said I believe that they would have a child and asked if I could pray with them. They said yes, and I took them over to our Prayer Cubby and sat them on the Surfboard Prayer Bench. As I most often do I anointed them with oil and put the Talit around them (Prayer Shawl) and began to pray. Holy Spirit fell on us and they began to weep. As the Lord led me, began to speak over them and said that they would receive a child before the end of the year. Also, I heard the Lord say she (Kayla) had a spirit of fear over her, so in the Mighty Name of Jesus Christ of Nazareth, I commanded it to leave! Exactly at the moment the spirit was rebuked and lifted off Kayla, we all felt it AND out of all the songs that come on over our music system in the shop the song shouted 'FEAR doesn't have a chance when I'm standing in Your Love' by Bethel! It was SO powerful!
They returned home and had a procedure to have a child but normally it could be up to a few years before it would work. She got pregnant two months later after we had prayed! Here's their newborn son little 'Coleman Joseph' three months old and perfectly healthy baby boy.
God Is Absolutely Good!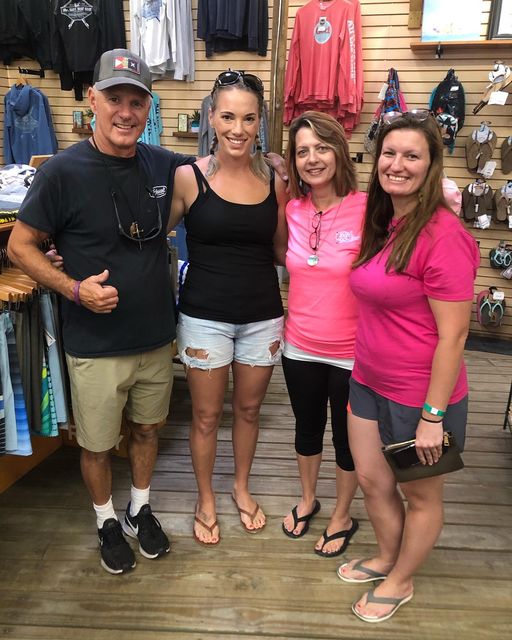 Testimony from the Surf Shop:
Meet (from L to R) Lacey, Denise, & Cassandra. The Lord led Denise to the shop months ago and had a POWERFUL encounter with Jesus. She was struggling with a couple things and something seemed to be missing in her life. She believed in Jesus but something was missing. I explained the baptism of the Holy Spirit and Fire in depth showing it in scripture and believed that the Lord brought here to the shop not only to be delivered from what she was struggling with but also to receive the baptism of Holy Spirit and Fire. She returned with her friends to let me know that she's praying in her spirit language (prays in tongues) and as been on FIRE for Jesus ever since. Her friend 'Lacey' when she heard about Cassandra's testimony, she knew that she felt the Lord tell her to come here because she was feeling stagnant in her walk with the Lord. They all came in today and once again the Holy Spirit and FIRE came in with power and rocked the place while customers watched and couldn't help but sense the power of HIS presence, and Lacey was ignited. All I can say is that you had to be here to see what happened.
This is Kingdom Business – church in action out in the open for all to see. I believe there were several customers in the shop and coffee shop not expecting to get an extra dose of expresso!
God Is Absolutely Good!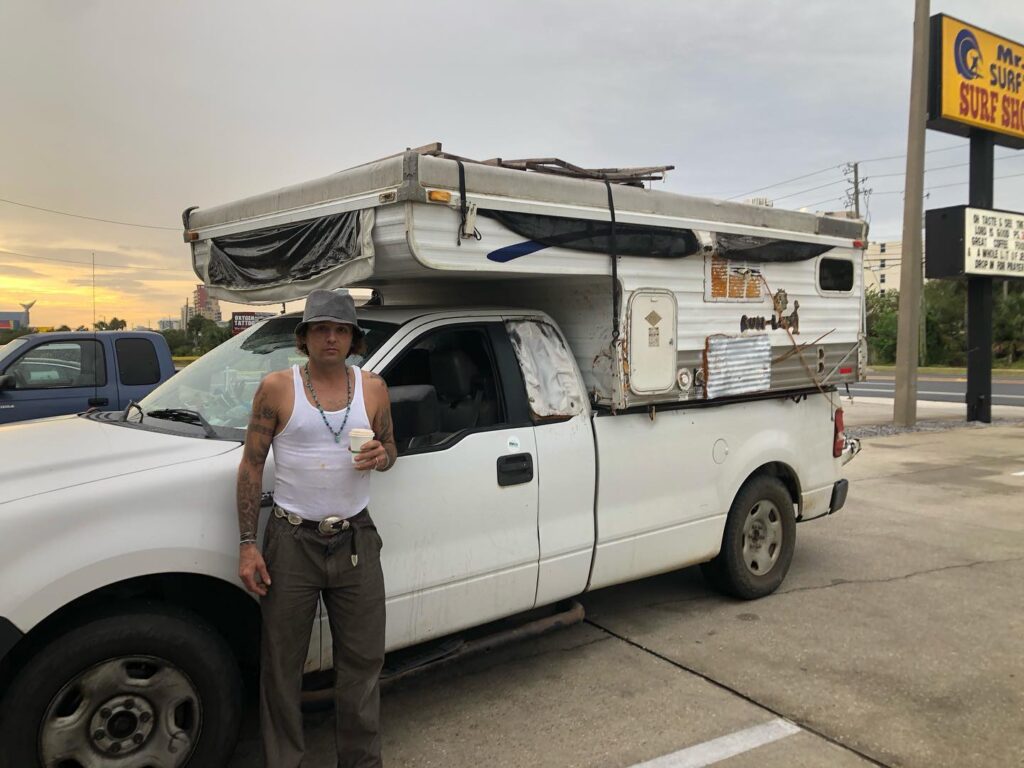 This is 'Joe'. I call him Joseph. Joseph has a hard and difficult story like many. The Lord led him to the Surf Shop early this morning as I was praying and anointing the grounds in preparation for this morning's 'Gathering at the Surf Shop'. I never know what the Lord has in store for me when I come in, and actually wherever I go. Scripture says,
A man's heart plans his way,
But the Lord directs his steps.
Proverbs 16:9
Joseph lives in his truck and works jobs as they come. He says since being here in Panama City Beach, he's been able to find odd jobs here and there. He came into the shop seeking to speak with the Pastor of the Surf Shop. I guess that would of been me 'Daddy Surf'
Although I had much to do to prepare for this morning's gathering, I heard the Lord (received a Rhema word) speak and remind me of Luke 10:38-42 with emphasis on vs 41, 42
41 "Martha, Martha," the Lord answered, "you are worried and upset about many things, 42 but few things are needed—or indeed only one. Mary has chosen what is better, and it will not be taken away from her." To make a long story short all he needed was a cup of coffee, and a place he could have lunch if he didn't get paid today for a job he was working. However, the Lord desired he hear the Word and I told him he had a name of great significance and spent time with him to share the story of Joseph in the Bible (Genesis 37 – 50) Joe was amazed and the Holy Spirit ministered to him in a mighty way. I may never see Joseph again, but I do know without a doubt we met for a specific reason and the Lord will continue to do things his life.
I will end with this: God is completely changing the church. The way most way Christians see it. Understand what He's doing and saying in these last days and hours. Be prepared for Water
(Holy Spirit) & Fire
It's about to erupt like an atomic explosion
. Stand strong for the SHAKING is near!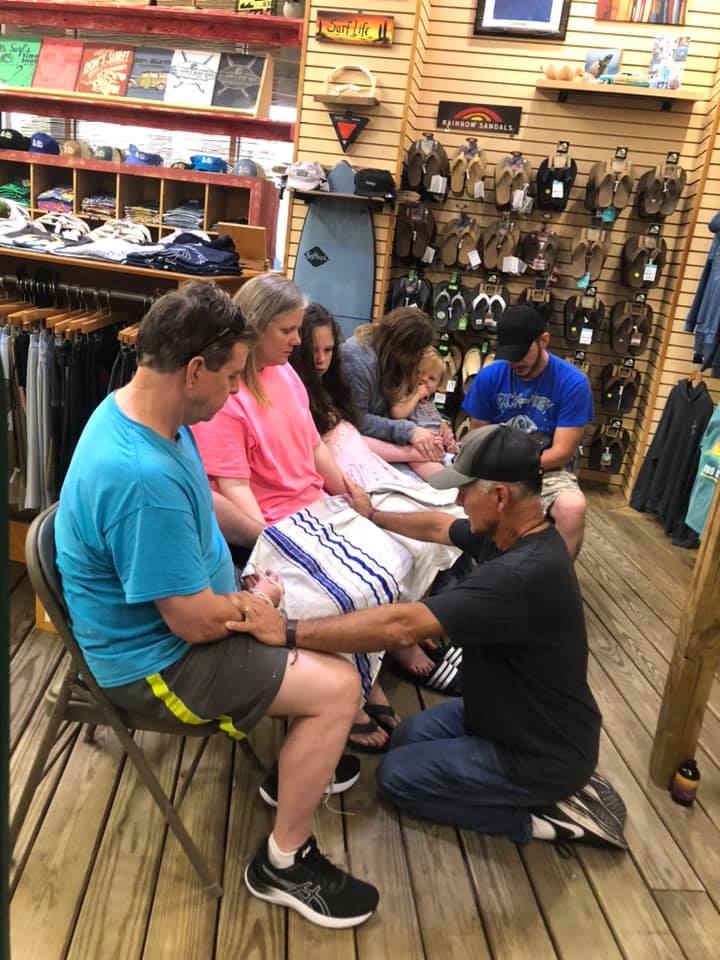 Kingdom Business at the Surf Shop:
Mom contacted me to be baptized with her little baby girl. She also brought her whole family – Grandpa, Grandma, husband and other daughter. I sat with them all and showing them in scripture and teaching them about the baptism of Holy Spirit and Fire – (the Holy Spirit
was in them) we prayed and the Holy Spirit
fell upon them as other customers watched in the distance. It was POWERFUL! Then we all headed out to the COURTYARD and I baptized mom and her little girl.
This is what we do. This is who we are.
Advancing God's Kingdom here on the earth!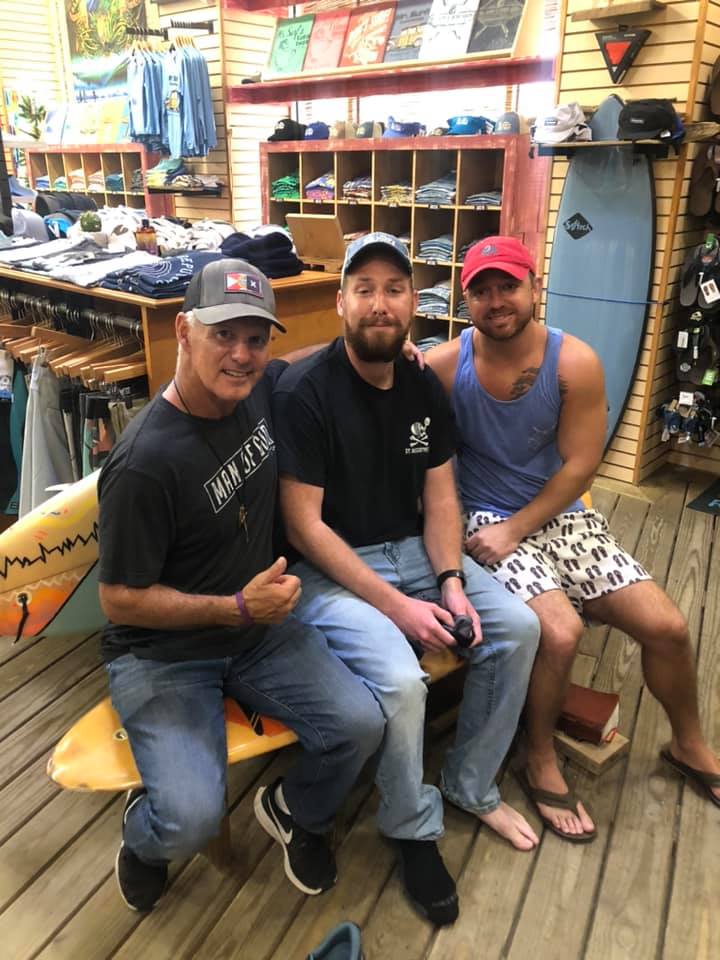 Testimony from the Surf Shop:
Daniel's Story – meet Daniel. NO DOUBT WHATSOEVER – Daniel was led to the shop by the Lord! He actually came to the coffee shop to study with his laptop and books. As he waited for his coffee, he pondered over to the surf shop side, and much to his surprise, he saw our Surf Bench (we have two and it's where we pray for folks who the Lord sends our way). Daniel had a dream about a surfboard bench, so he grabbed all his stuff and set up in our Prayer Cubby under the stairs, sitting on our surfboard bench and began to study. That's where I discovered him when I came into the shop. Robin (our employee) went over to talk with him and ask what he was doing and that's how we knew the Lord sent him here. Robin told me that he wasn't a believer in Christ and was being fed a bunch of junk in college. I immediately went over, introduced myself and we began to talk and wanted to know about his dream. Y'all know me, I don't hold no bars back (John the Baptist on the beach) and started speaking (prophesying) Truth, Life and destiny into him telling him all those so-called psychoanalysis / man made teachings couldn't bring him to who he truly was in Christ. The Holy Spirit consumed me as the Lord spoke to Daniel through me. The words, all according to scripture, stunned Daniel to the point that he was basically frozen and tears welled up in his eyes. To make a long story short, it was about :30 minutes or longer and then I asked if I could pray with him. I told him it was NO COINCIDENCE that it was a GODINCIDENCE that he had a dream about a surfboard bench and was sitting on the one in our shop. The Lord had brought him here because HE loved him and today was the day of salvation for him! He was tearing up the whole time as other customers watched (it's how the Holy Spirit works – HE draws folks in and the see HIS work and encounter HIS presence most every time HE moves mightily. It's such a beautiful and amazing thing!) I went and got a Bible for Daniel, however, he just held it and stared at it. Then he asked if I could pray for his anger. I asked why he was angry, and he said that every time he would open up a Bible and try to read it, he would get angry and rip out the pages! Yep, I knew right away what had to be done. I called another employee (Warrior in Christ – Lucas), told him everything that was going on and we got Daniel settled down to pray for him (deliverance and salvation). We asked if he wanted the anger (a dark spirit) to leave and give his life to the Lord and Daniel's response was 'Hell yeah!' Both Lucas and I laughed at his response. There was a lady shopping with her daughter nearby when it all went down, and boy did it go down! The spirit of anger was cast out and immediately afterwards Lucas led him in the prayer for salvation – Hallelujah give praise to our God Almighty Yeshua! The lady who was watching, grabbed her daughter and hightailed it outta there when she saw what had happened – she knew it was the REAL DEAL! Another one brought into the Kingdom of God!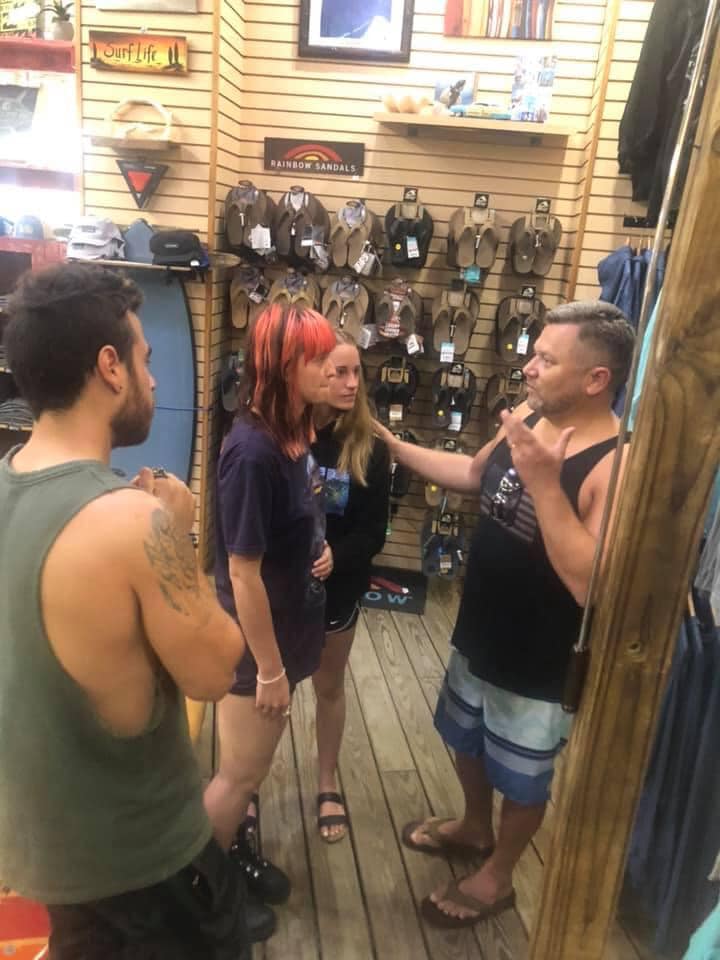 Testimony from the Surf Shop:
This is 'Habib' & 'Angelina' .
Speaking with them is my Good Brother and Fellow Warrior in Christ
Joshua Rice
and in background is our employee
Katie Taylor
The Lord led Habib and Angelina to the shop. I encountered them as they stood in front of the keyboards we've got set up in the middle of our shop for Spontaneous Worship. I asked them if they were artists (musicians) and they said that they were. Habib plays instrumental music (he writes his own music) and Angelina writes and sings her own music. Both are very gifted.
You know me – I began to speak into their lives as the Lord led and told them that the Lord had brought them in for a reason. To make a long story short, they were leaving California, like so many other folks, and coming to Florida to start anew, and I prophesied what the Lord was giving me about their new life and what the Lord was about to do in their lives. They believed it was true and that it was what was in their hearts. However, there was an issue that had to be dealt with and that's why the Lord had brought them in. Angelina was a believer but had some things the Lord wanted to deliver her from and do.
Habib wasn't a believer but was searching for Truth. He had many questions, so I explained, in detail and all according to scripture, the questions he had and it all made perfect sense because it was all Perfect Truth – JESUS.
Jesus healed Angelina emotionally and Habib came to know Jesus. Both received the baptism of Fire
and began speaking in the spirit. They'll be coming back to the shop for prophetic worship!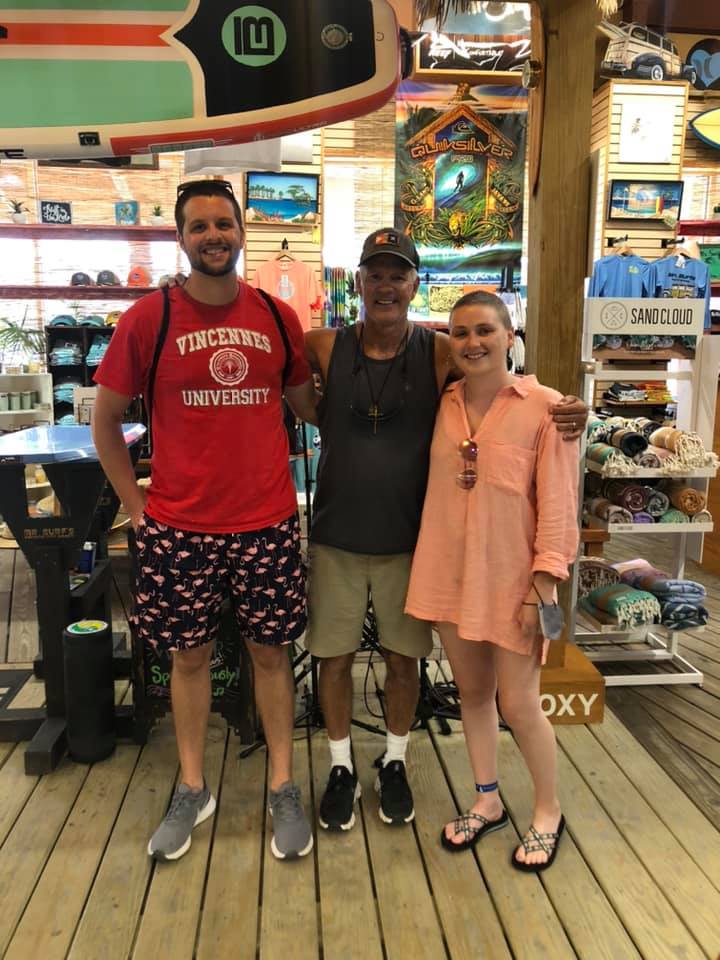 The Lord never ceases to amaze me, and I'm so humbled and honored to do this work HE has assigned me to do. It certainly NEVER gets old!
This is Andrew & Claire visiting from Virginia. The Lord directed their steps into the shop at exactly (as it always seems to be) the same time I just happened to drop in for a minute. Right away I felt a strong impulse from the Holy Spirit and knew they were here to be prayed for. I immediately went across the store and confronted them and introduced myself and told them exactly that! That the Lord had brought them in and that this was HIS house and Holy ground. Claire began to cry as His presence was so powerful I knew something was about to happen. To make a long story short, I led them both to our prayer bench, got my Talit and anointing oil to prepare to do His work. They were Catholic, so everything I spoke about, I showed them and referred it all to scripture as I explained what the prophetic was and the Sword (Word) of the Spirit (Prophetic).
I also shared what the Lord was saying about them (Words of knowledge) and they were astounded that everything the Lord was speaking through me was spot on, particularly, because I never met them before. Claire was there to be healed not just physically but also emotionally because she had been through so much. Her entire femur in her leg had to be replaced because of a tumor they had found. She had been through quite a lot to say the least. Her husband, Andrew, on the other hand also needed to be healed emotionally, particularly, delivered from fear, anxiety and depression. Jesus healed them both – it was powerful! Also, they both received baptism of Fire 
 (I read and explained it to them in scripture in detail)
Andrew couldn't stop thanking me, but I told him this is what I live for! I still am so overwhelmed every time it happens and so grateful to my Lord and Savior Jesus Christ! I love Him! I love Him! I love HIM indeed! Hope y'all enjoy this story and are inspired to go be the hands and feet of Jesus. Living the Kingdom life.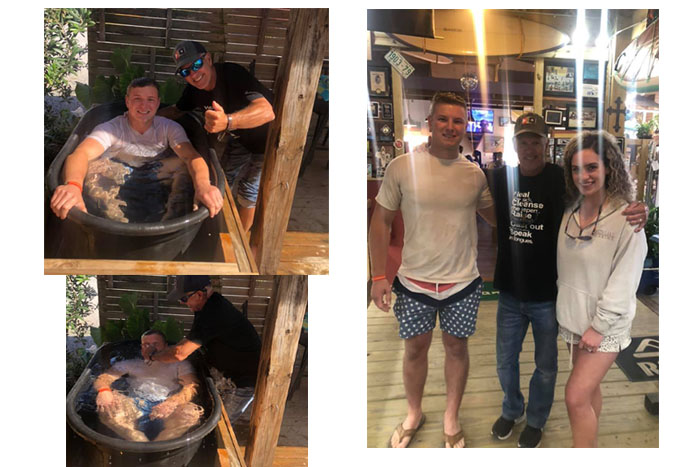 Another absolutely wonderful day that the Lord hath made! So many Divine Appointments and it's all just as new as the first time it all began. God is so absolutely good. This is Carson & Lilly . The Lord led them here (they even said it was so – that their footsteps were directed by Him) to the shop this morning. As soon as I saw them , I felt the Holy Spirit move. I watched and waited and continued to work until I heard the Lord say, 'Go tell them I have a word for them'. They had gone over to the coffee
shop side and were waiting in line, so I approached them, introduced myself, and told them exactly what the Lord had told me. They believed me. I then told Lilly what the Lord was telling me about her and she was astounded because it's what she did and was spot on. I knew the Lord had more for them but HE hadn't let me know what it was just at that moment, so I told them that I would like to pray with them when they were done eating. They said certainly and were very delighted! Make a long story short, I got my Talit and anointing oil, sat them both on our surfboard prayer bench and began to pray and prophesy what the Lord was saying and what and how he was about to do with them both – powerful to say the least! Also, I explained to them and showed them in scripture about the baptism of the Holy Spirit
and Fire
!
We prayed and they were wrecked! Weeping as Fire
fell, I even felt the temperature around us rise – it was amazing! They both were believers and Lilly had been baptized in water but Carson hadn't. We filled our tub outside and baptized him while folks who were there to eat lunch watched in amazement. God connected us for a specific reason which will occur in the near future. What's also cool, and a GODINCIDENCE, is they had gone to
Church International
one time and loved it! We support the
Robin Youngblood Bullock
Bullocks. Keep on keeping on for HIS Kingdom- Jesus Christ our Lord and Savior.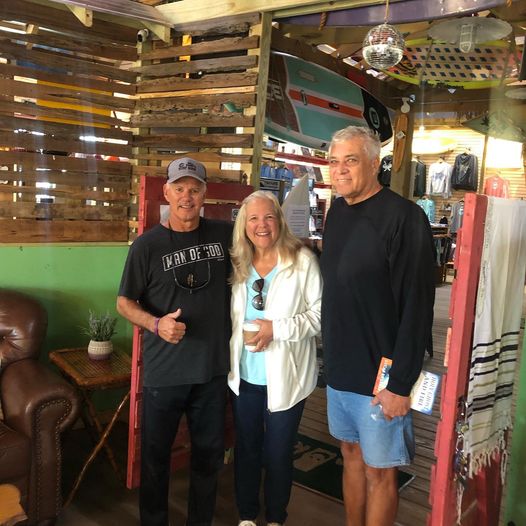 Good Monday morning Y'all! I'll get up a beach report shortly. Until then, here's a short testimony. This is Art & Tina. They are dear friends that I met when they started to come to our small 'Gathering at the Surf Shop'. They are on their way back home in Georgia after spending a few months here in PCB, however, they will return Spring 2022. Tina is spirit-filled and the Lord has given her many dreams and visions. She carries a strong spirit of peace and you sense the anointing on her when she's with you and shared the things that the Lord shows and speaks to her and her many testimonies. She has been bringing her husband here in hopes that he would be baptized in the Holy Spirit
and Fire
.
Well yesterday, Sunday morning, they showed up to attend our Gathering but didn't know we had canceled it because we were attending my friend's meeting in Grandridge. They were the only ones who came. Now as it always is – never a coincidence only GODINCIDENCE , I just happened to come into the shop for a minute to square it away for our staff for the day. We sat, talked a few about many matters concerning the Lord and Art said he desired the baptism of Fire
but didn't understand what it was exactly. To make a long story short, I shared – all according to scripture – the word in a way the Holy Spirit has gifted me with and it made perfect sense. He understood it! So with that said, I said since we're here let's go over to the Surf Bench and pray and ask Father God to baptize you in the Fire
. He wanted to so we went to shop side (it was closed so we had it all to ourselves) got my Talit and anointing oil and we asked Papa God to baptize Art with the Holy Spirit
and Fire
. It was SO BEAUTIFUL to see this couple tucked up underneath the Talit and when the Fire
came upon Art, well let's just say it was simply beautiful. His wife cried with joy because she had been praying for this moment for a long time.
By the way Art said his legs felt like led, and he could barely walk
. Life is SO beautiful with Jesus, Jesus nothing but JESESU! 
Daddy Surf